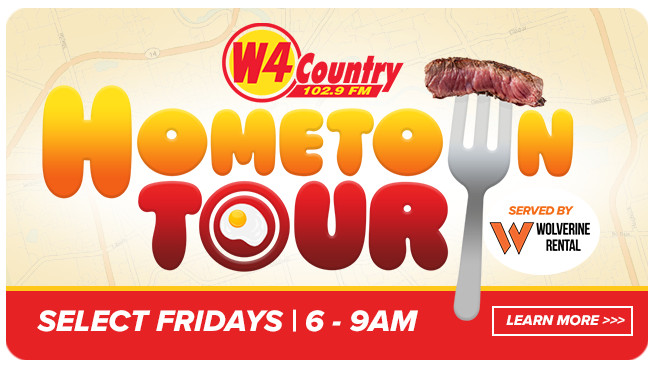 The 2023 Hometown Tour is here, and YOU are invited to join us for a breakfast special for just $1.29!
Each year, W4 Country takes our "W4 Morning" broadcast to local diners where community organizations, charities, schools, sports teams, and other participating local businesses are invited to join the show to highlight what's happening in their hometown.
Check out the schedule below and visit this page for interviews, pictures, and more!
The 2023 Hometown Tour is served by Wolverine Rentals.
W4 COUNTRY HOMETOWN TOUR SCHEDULE:
Friday, September 8, 2023:  Linda's Diner, Manchester
Friday, September 22, 2023:  Holiday's Restaurant, Ann Arbor 
Friday, September 29, 2023:  The Golden Egg, Ypsilanti
Friday, October 13, 2023:  Harvest Moon Café, Ypsilanti 
Friday, October 20, 2023:  Uptown Coney, Chelsea
Friday, October 27, 2023:  Bennys Family Dining, Ann Arbor
Friday, November 3, 2023:  Pinckney Diner, Pinckney
Friday, November 10, 2023:  Riverview Cafe, Dexter